Winch Cable Parachute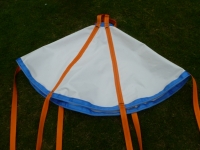 Click on photos for larger pictures
Added reinforcements in key areas to help increase the lifespan of the chute.
Unique new design allowing outer areas of the chute to act as a shock absorber when it hits the ground, thus hopefully reducing wear and tear.
1.32m wide -(open)
2.8m long -(closed)
Weight 2.5 kg approx
Made as strong as possible using materials science experience and saddlery techniques.
These chutes have been tested by local gliding school.
Tested on the North Downs -(Surrey Hills)
Chute colours available are
White, Orange or Red
Webbing colours available are
Blue, Red or Black
Please note, the Black webbing is thinner and has less of a breaking strain than the coloured webbing.
I was unable to get the Black in the same breaking strain as the coloured from my suppliers.
Black breaking strain is 3,000 kg and the coloured is 4,500kg, so still plenty strong enough and I do re inforce the loops both ends which prolongs the life of the webbing.
NO Vat on any chutes or carriage.
£105.00 each plus £7.00 carriage to UK mainland.
Postage on all products is to UK Mainland only. For overseas customers who wish to buy cable parachutes, including the Republic of Ireland, please email me for prices.