Handmade Snaffle Bridle (Hunt Cavesson) with plain reins
NO NEW ORDERS BEING TAKEN DUE TO VOLUME OF WORK COMING IN.
Description:
A Truly traditional bridle, plain flat noseband and browband.
Choice of either hook stud billeted ends or buckled up billeted ends on cheeks and reins.
Bridle pointed ends to end of straps, which is the traditionally correct shape not like the egg pointed ends you see today on massed produced saddlery.
Stitched 10-12 stitches to the inch, depending on size.
ENTIRELY hand made using the Best English leather.
If you have an "in between sizes" horse, then I will make you a bespoke made to measure for no extra cost.
All you need to do is to fill in a chart I will send you of measurements you take from your horse.
1 year's guarantee from date of invoice.
I small tub of Old Saddlers Blend 1988 Leather Conditioner free with every bridle sold.
Black or Dark Havana
Stainless steel or Brass Buckles and Hook Studs
Section A £80 (3/4" noseband)
Pony £90 (1" noseband)
Cob £100 (1 1/8" noseband)
Full £110 (1 1/4" noseband)
Ex Full (Hunter) £120 (1 1/4" noseband)
plus 4.50 postage (signed for delivery via courier)
If a completely plain bridle is too plain for you, why don't you liven it up a bit and buy a hand made bespoke browband to use with this bridle from our friends at Bespoke Browbands. Click on photos below to link to them, HUNDREDS of beautiful unique designs to choose from ALL hand made by Skilled Saddlers. They can make up work to your own design too. They also hand make and sell super rubber/sure grip reins.
Pay them a visit.
Any returns are to be paid for by the customer, I will only accept returned bridlework if it is unmarked in any way. Please refer to instructions included with the bridle when you receive it on how to try the bridle on without marking it. Leather can be easily marked.
Returns must include the leather conditioner unused and un opened.
Thank you.
Click on photos for larger images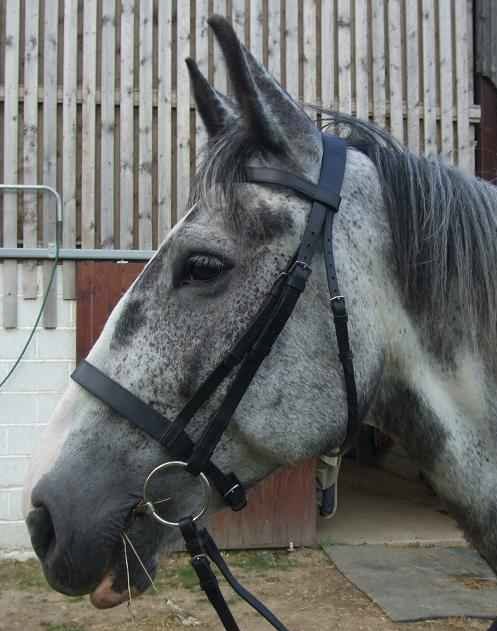 Black
Dark Havanna