If you are having trouble with your neighbours over noise your bird/s are making and it is involving the council and/or a court case I can now provide you with a letter that should help your case, please ask me to include it in your order and I will send you a copy.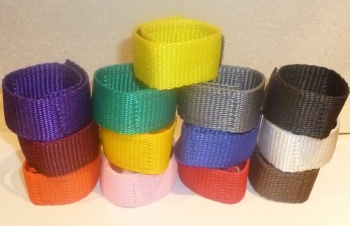 THESE WILL NOT FIT SMALLER BREEDS, SEE MY OTHER ITEMS FOR DIFFERENT SIZES AVAILABLE
17 COLOURS TO CHOOSE FROM see photos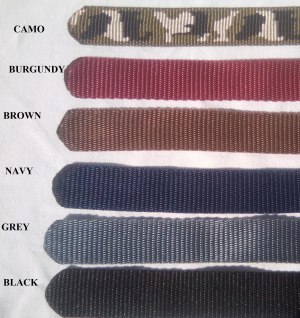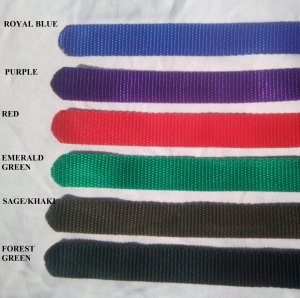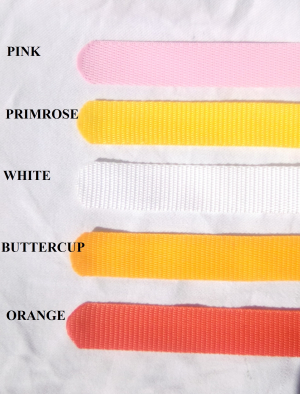 Larger than the standard collar, it is suitable for largish birds such as Orpingtons, if you need one for Brahma cockerels there is one in the drop down menu when going through checkout.
I've made these from webbing with the rough edges on the areas that are against his neck removed so a snug non chafing fit. This is a better quality and heavier duty collar than the velcro (economy collars)
The cockerel will still be able to crow if it's fitted correctly by following the full instructions that come with it.
He will crow but at a greatly reduced volume.
It won't damage their feathers round their necks as the collar sits UNDER the feathers when it's fitted properly. The feathers simply grow out over the top of the collar.
This large collar will fit necks from 6 1/2" up to 8" approx , it is designed to fit ADULT Orpington sized birds.If your bird is not fully grown please measure your bird's neck to see if it will fit before you buy as you may need a smaller size until he's fully grown.
Made from industrial grade materials that are used by the Military.
I have trade accounts for resellers who will then be authorised to sell these collars, if you are a reseller and want to open a trade account message me for details.
£4.15 for 1 collar
The free post I offer is second class and can take up to 3 weeks to get to you
so please be patient, I really have no control over the post.
There is an option at check out to select First Class post should you require it.
IT IS VERY IMPORTANT THAT YOU CHECK IT REGULARLY AND IT ISN'T RESTRICTING HIS BREATHING.
NO liability is accepted for the use of this collar, use it at your own risk. WHEN fitted correctly it won't restrict his breathing, if after several attempts at fitting it he is still crowing as loudly then please accept that this collar won't work for your particular bird. No guarantees are given or implied that this collar will work or on the length of time the collar will last as some cockerels still manage to get it off no matter what you do and some just scratch it to pieces. You MUST understand this collar is a last resort for your cockerel, if it doesn't work you may have to get rid of him, all you can do is try it and see. This collar can kill a bird if used incorrectly.If you don't agree to this do not buy or use the collar.
You need to make sure it will fit your bird by measuring the base of his neck, under the feathers and check the size against the size/s given in the listing